November 5, 2007
Shellywatch
Did you guys hear about the Vice President? He shot a guy in the face.
Here's a clip from David Letterman, October 29, 2007.
If you're confused by this clip and wonder whether it would make more sense within the context of the rest of the show, rest easy. It does not.
October 27, 2007
Armsstrong in Channel 101
Things have been quiet around here lately, but that doesn't mean we haven't been busy. Our new cartoon "Armsstrong," a co-production with the guys at supermasterpiece.com, will be debuting at the October Channel 101 screening. It stars Shek Baker and Shelly Stover. If you're in LA, check it out.
We'll have more details here on "Armsstrong" later in the week.
Ed
July 27, 2007
Save Indy Videos in NYC!
Hey guys, there's a new poorly-worded law coming along that would make it illegal to shoot independent videos on public streets in NYC. We have until August 3rd to write to the mayor's office to convince them it's a bad idea.
Olde English has the skinny:
Free NYC Rap
Update (8/4/07):
Victory! Now to get started on the second episodes of Depressions and Peanut Butter Factory.
June 12, 2007
Spider Monkeys on TV
Two things that really happened last week: Trevor on CMT's hot new show "Prankville," and Angie on "Jimmy Kimmel Live."
May 1, 2007
Peanut Butter Factory
"Peanut Butter Factory" debuted as easily the most popular video in Channel 102 history. The audience was thrilled by the revolutionary disregard for 100 years of film-making tradition as we refused to use any lighting whatsoever. Now you can see it at home. Unfortunately, it probably won't look nearly as dark and blurry on your computer as it does when projected on a massive ten-foot movie screen, but try to imagine the magic and enjoy it anyway.
By roommates Ed, Trevor, and Adam.
Quicktime
YouTube
acceptable.tv
April 27, 2007
"Peanut Butter Factory" Screening
A new video by roommates Ed, Trevor, and Adam will be screening at
Channel 102 in New York. It's called Peanut Butter Factory and you can check it out on the big screen, the way it was meant to be seen.
Channel 102
Monday, April. 30th 8pm at Anthology Film Archives
2nd Avenue at 2nd Street, Manhattan
March 26, 2007
Men Out of Work
Hey, we made a new video. This one's about some out-of-work construction workers. It's got Trevor, Ed, Laura, Chris Camp, Andrew Wright, Alan Corey, and Parker Brown, and it's directed by Patrick Reardon.
February 5, 2007
Attractive Eighties Web Site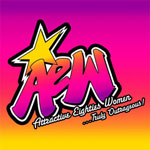 Mack's band, the Attractive Eighties Women, is cranking it up with a brand new web site and a whole bunch of tour dates for 2007. This week, they'll be performing during the filming of a new show called "America's Toughest Bars." Sounds like it's right up their alley!
January 29, 2007
ShellyWatch: Everywhere at once
Shelly's new commercial is playing all day long, every day, during all the hip new programs. We've had reports that it's played during the Daily Show, Real World/Road Rules, and American Idol, and on E! and FX. Now it's on the internet, too: Click on the commercial called "Telegram."
Previous ShellyWatch sightings: 1, 2, 3, 4
December 13, 2006
A Christmas Miracle
Ed and Trevor have made a new video! It's a dramatic depression-era drama full of adult themes, so view with caution.
Featuring Trevor, Heather Fink, Andrew Wright, and Trevor's improv teammates David Segal and Chris Camp.